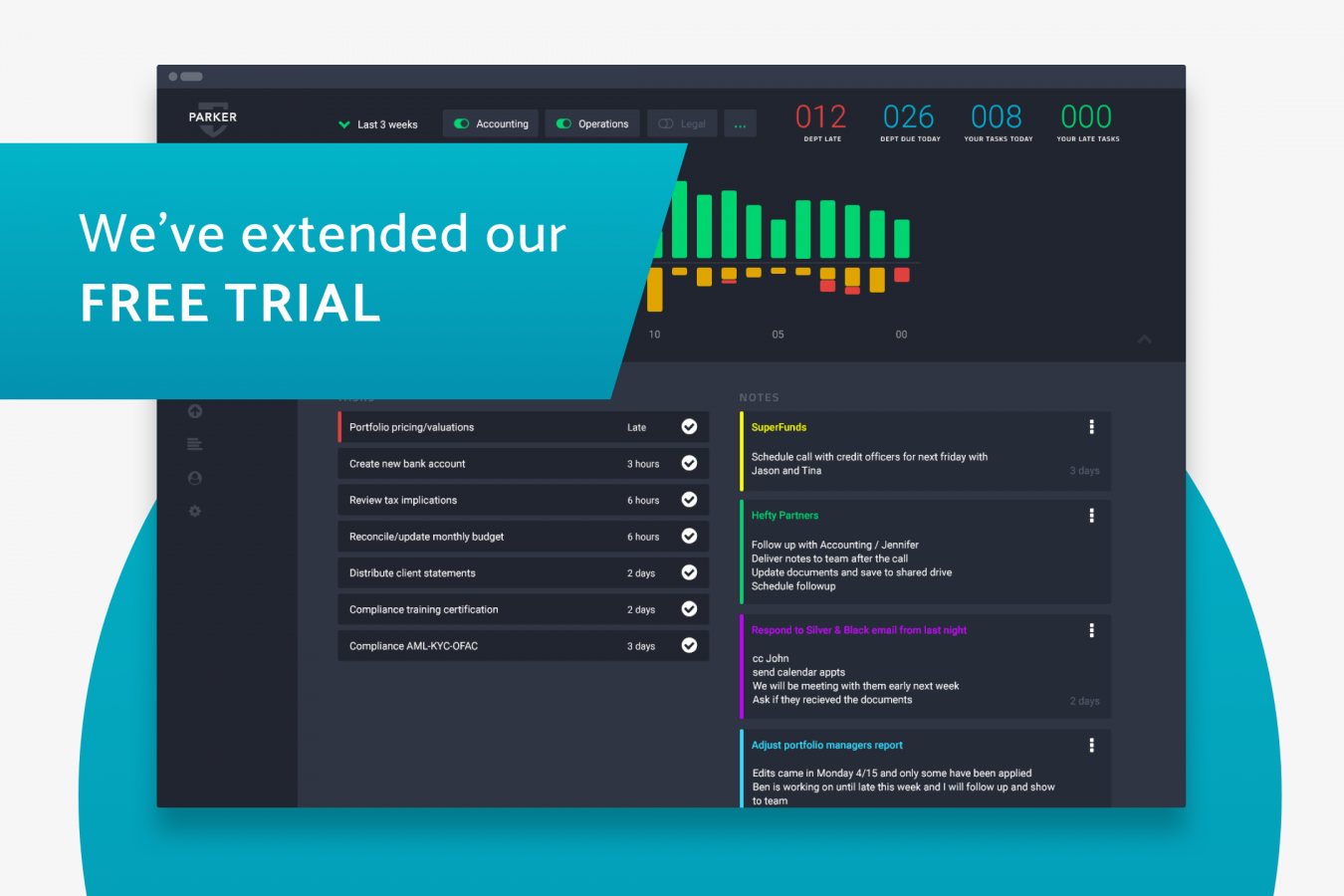 OpsCheck, the premier SaaS platform for financial operations control and team collaboration from leading operations authority Frank Caccio, announces extended Free Trial Periods for firms in immediate need of secure remote working environments.
Ideal for both inhouse and remote working environments, the platform combines proven advancements in task management, project oversight, and workflow applications into a single tool. An exceptional platform for onsite and remote users, OpsCheck connects colleagues involved in the firm's operations, compliance, and investment teams and more. Built for the financial community by financial operations experts, OpsCheck seamlessly creates a central repository for every task, job and project quickly and cost-effectively.
OpsCheck founder Frank Caccio said, "In these troubled times, firms are looking for remote working solutions that do not cause more disruption to their businesses. By offering the extended free trial period, we hope to assist firms with expanding the efficiencies and security they have come to expect inhouse to their remote workers. We build confidence with our clients and earn their trust, and the OpsCheck platform is uniquely positioned to do that."
With a volatile financial environment and uncertain staffing presence, OpsCheck stresses that its platform can be implemented quickly and easily with expert support and guidance. With the extended trial period, prospective clients can focus on their core business during the current high-stress crisis without a lengthy integration process.
Current client Mark Austin, a principal at Connor, Clark & Lunn, said, "The staff are now all working remotely, and Ops Check is integral to ensuring all our business processes continue to run smoothly and accurately."
As a cloud-based SaaS application, OpsCheck inherently can be utilized from any location with built-in security and permissions tools. The platform can adapt to the variety of existing third-party applications as well as proprietary enterprise programs. By initiating OpsCheck now for the remote work that has become a pain point for many businesses, firms are also able to establish a long-time solution for business continuity that demands flexibility and immediacy.
About OpsCheck:
OpsCheck is the premier Operations Platform built for the financial community by financial operations experts. It is an Operations/Compliance Control and Oversight application that greatly mitigates Operational Risk. OpsCheck is cloud-based and offers full transparency when working in the office or remotely, enhances team communication and coordination, and promotes a culture of accountability and operational excellence. It's easy to get started, easy to operate, and is cost effective. Management and staff, as well as regulators and auditors will reap the benefits of OpsCheck. Many reputable firms around the globe have already subscribed.
Contact for media inquiries:
Frank Caccio
FJC Partners, LLC
732-221-9625
frank.caccio@opscheck.com
opscheck.com