Future-proof operations technology
Mitigate risk with 360° visibility
Powerful visual reporting tools offer clear, detailed access to your ecosystem that will meet the needs of any C-level executive, client, or regulator – including audit trails for compliance.
Centralize control, unite processes
Access and operations get simpler: easily create and control access, coordinate teams & financial workflow, and manage your short- and long-term objectives.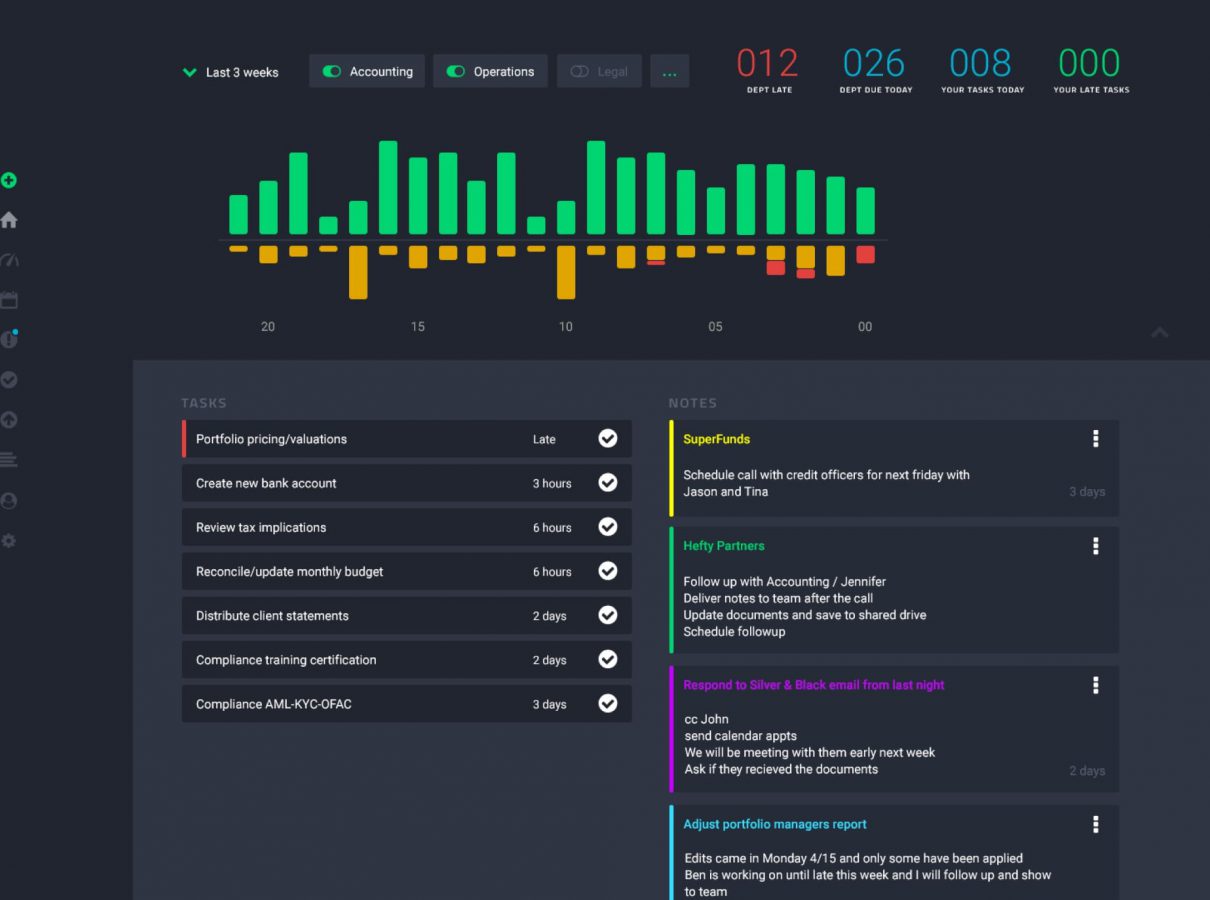 PROJECT CONTROL & OVERSIGHT
Centralized task management workflow and oversight
Powerful visual reporting and notifications
Adapts to any type of business, at any size
Easy collaboration, chat, and document storage
Greatly improve team efficiency and accountability
Coordinate across teams, offices, and timezones
Flexible integration with third-party applications
Centralized communication hub for the entire firm
Provide transparency to regulators and clients

STREAMLINE YOUR TASK WORKFLOW
Every member of the team has access to a personalized workflow management dashboard showing upcoming tasks that gives instant access to additional task details as well as one-click task completion right from the home screen.

CENTRALIZE EVERYTHING
No more sending emails to yourself or sticking notes to your desk, OpsCheck has built-in personal or shared notes and customization for the individual users to track things and each task can also have shared notes for easy collaboration.

SIMPLIFY WORKFLOW TRACKING
No spreadsheets or long granular details getting in the way of productivity. OpsCheck is a workflow management system that simplifies the task details to exactly what you need to get your work done while storing the lengthy audit detail for access when needed.

COLLABORATE & DOCUMENT
Easily work with your team on various tasks in one workflow system through a built-in chat feature as well as shared notes and whiteboard area. Everything is contained within its relevant task so there is no searching through emails or paperwork.

POWERFUL SEARCH & FILTER
Flexible, intuitive workflow tool provides exactly what you need to see every time. Search, sort, and export anything in a few clicks with no complex query or technical coding knowledge.
ELEGANT & EFFECTIVE REPORTING
Powerful visual oversight tools can drill-in to breakdowns by team members, departments, and custom categories. Instantly see red flags and focus on workflow areas that need attention.

UNIVERSAL THIRD-PARTY INTEGRATION
OpsCheck can integrate with any software application through its secure API which allows unlimited customization. Efficient, centralized information-sharing offers simple review and tracking in a single location.

INTERNAL & EXTERNAL ACCESS CONTROL
Manage staff, service providers, and portfolio companies all over the globe with extensive permission customization and control. Provide and manage access as needed to clients or any internal or external stakeholder, all from one dashboard.
Better workflow with OpsCheck:
What our users say "We chose OpsCheck because it promotes individual accountability, mitigates operational risks, streamlines infrastructure oversight and further demonstrates industry best practices. We believe the OpsCheck platform will have a positive impact on scalability and operational efficiency."
"As a VC, PE, and RE Fund Administrator, we chose Opscheck because it actively promotes individual accountability, mitigates operational risks, and further demonstrates Mainstreams's commitment to providing the highest quality controls and service."

"Creates efficiencies around managing and reminding everyone of deadlines that makes running our business smoother at a reasonable cost."